Ah, yes: Catholic devotionalism. Where would we be without it?
This is the tradition spurned as "superstitious" by generations of Protestants as well as the past fifty-odd years of Catholic liturgical scholars. The "Spiritual But Not Religious" crowd sees a vast wasteland of rules, regulations, social conformism, and external authority. Classrooms of undergraduate students dismiss Catholic devotional practices as repetitive, going-through-the-motions, and inauthentic. (But, curiously, have no problem ascribing reality and authenticity to phenomena like the Duggar family's particular [and particularly narrow] evangelicalism, the Peoples Temple suicides, and the Creation Museum. But I digress...) My faculty colleagues, some of whom are ex-Catholics, harbor nothing but contempt for the old ways, that of their oppressive parents and grandparents. Even St. Josemaria Escriva castigates mindless recitation of the Rosary (Furrow #477).
At one level, it must be admitted, they have a point.
On the other hand, Catholic devotionalism is an irreducible part of American Catholic history and varieties of Catholic social and spiritual identity. A sine qua non--without it you really don't have anything "Catholic." Consider:
Caesar Chavez's invocation of Our Lady of Guadalupe in his organization of migrant farm workers: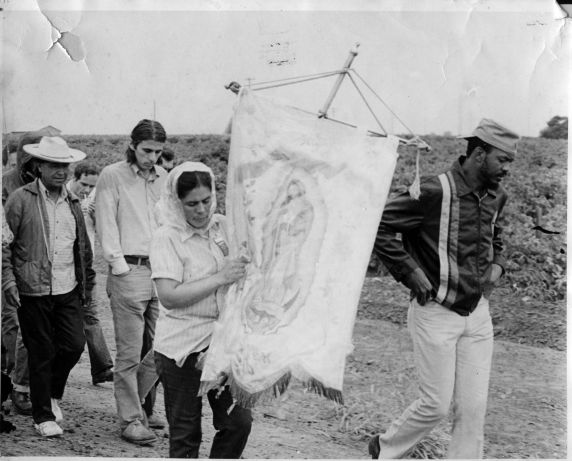 Source:
Wayne State Library
Pope John Paul II, then Cardinal Karol Wojtyla, leading peaceful and popular resistance to Polish Communism:
Source:
nd.edu on Pinterest
-- St. John Paul II's 1980 visit.
Personal aside: I love this photo's contrast between the vast crowd's vivid colors and the drab backdrop of Soviet-style housing. How many divisions does the Pope have?
So it's a part of who "we" (anybody Roman Catholic) are. It should be noted that it is also a part of Catholic identity in which we participate voluntarily. The Catechism makes it clear:
So what is the point?
Amid all the criticisms and hagiographic defenses of Catholic devotionalism there are some surprisingly subversive ideas and practices. Catholic devotionalism prompts puts these in the hands of the non-elites, that vast unwashed horde (in the minds of critics) who actually "do" Catholic devotionalism. One of the most surprising of all reaffirms God's mercy extended to and for us all. That's right--precisely through the specific comes a clear cry for God's inclusive mercy. Earlier this month I made this same point for a Divine Mercy Sunday post. Expanding upon that earlier post, here are two examples:
The Fatima Prayer:
Later this month the Church will have quite a day: May 13.
source: Catholic Sun, Phoenix, AZ
* 225th anniversary of Pope Pius IX's birthday
* 100th anniversary of Pope Pius XII's priestly ordination
* 100th anniversary of the Fatima apparitions
It's surely no surprise that the last event will receive the most attention. Fatima represents a high water mark of Marian devotions. Like the nineteenth century's prominent apparitions (La Salette, Lourdes), Fatima enjoys official recognition unlike most recent events like those at Medjugorje (which have been rejected repeatedly by the local ordinary). Fatima does involve a wide variety of devotional actions and agendas. What interests me here is the "Fatima prayer" which the Blessed Mother asked be added to end of each Rosary decade recited:
save us from the fires of Hell,
bring all souls to Heaven,
especially those in most need of Thy mercy."
What's that last line again? "...those in most need of Thy mercy"--folks, that means everybody.
Even a cursory glance reveals at least two foci for this plea:
Macrocosm: That wide world of all of "them" who need God's mercy more (as we see it) than we do i.e., anybody not like us. Non-believers, apostates, the vigorous and snarky atheist, the willfully violent, that wide swath of those who seem quite content to wallow in their addictions--these people surely need God's mercy. The entirety of St. Paul's indictment in Romans 1:18-32 or I Corinthians 5-6, not just a selective reading thereof, comes to mind. Look at the world and see the myriad of self-created problems. These stand in desperate need of God's mercy.
Microcosm: ME
It's always harder to turn the spotlight on ourselves.
From last month's post here's my take
:
It is our fallen nature that pulls back, that hesitates. We all know people—
public figures
as well as
personal friends
and acquaintances—who fit the bill "those in most need of Thy mercy". When we are honest with ourselves, we realize this include us, too.
And, boy howdy, is it difficult to admit this--to ourselves or anybody else. We do need to remind ourselves and others that we cannot presume upon God's mercy (Romans 6:1), but that caution likewise shouldn't keep us away. That, in part, grasps the beauty of Catholic devotionalism. Even something so particular conveys an astonishing message of welcome, of God's gift. Sometimes we get so caught in external trappings--the otherworldiness of the Fatima statue or laser-beam effect of the Divine Mercy image--that these more basic, essential, messages get lost in the shuffle.
The Divine Mercy
Beyond the devotional practices—venerating the image, praying the Chaplet—the Divine Mercy tradition contributes an astonishing reminder. St. Faustina records Jesus stating His mercy extends to all, especially those souls apparently furthest from Him. "Let the greatest sinners place their trust in My mercy. They have the right before others to trust in the abyss of My Mercy" (Divine Mercy in My Soul, #1146). And "the greater the misery of a soul, the greater its right to My mercy" (#1182). At one level this is not new—the Gospel like today's reading teaches us the very same point about salvation in Christ through faith. It is, though, a refreshing jolt to have this universal message conveyed through such a particular channel like St. Faustina. Her experiences are not merely spiritualized escapism. Like the early Church in today's readings, actual corporal works of mercy must accompany prayer (#742). ... obviously the breadth of Christ's mercy extends more widely than we know or admit.
An indication of my inner Augustianism is my stubborn refusal to recognize that I, the trained theologian, might have construed God's mercy much more narrowly than St. Faustina, "merely" a nun in interwar Poland. On the surface, the Divine Mercy seems like yet another expression of Catholic devotionalism. One more image, one more set of prayers, etc. Our elitism, though, should not blind us to Divine Mercy's lesson: that through the very particular, God conveys the very gift of His all-encompassing mercy. Again, the Gospel already proclaims this. Jesus does not merely offer salvation in some general fashion; He accomplishes it by being a Jewish carpenter from Nazareth who dies in a particular (and particularly awful) way and then rises on the third day. Thus "Have you come to believe because you have seen me? Blessed are those who have not seen and have believed."
Maybe this is why, on the Feast of Christ the King, Pope Francis brought the Year of Mercy to a close...with a call for mercy. Just St. John Paul II extolled the Gospel of Life against the culture of Death, Pope Francis calls for a "Culture of Mercy" (#20) shaped by prayer, openness to the Holy Spirit, and closeness to the poor. Pope Francis also mentions attending to the lives of the saints, especially, first and foremost, the Blessed Virgin Mary (#22). So even today devotional Catholicism makes its presence felt. We have become accustomed to the Church's social inclusivity, but that familiarity sometimes hides from us that equally moving and challenging spiritual inclusivism, one that we find in the most particularly Catholic expressions. Isn't this part of the Good News we proclaim?